Work in total peace of mind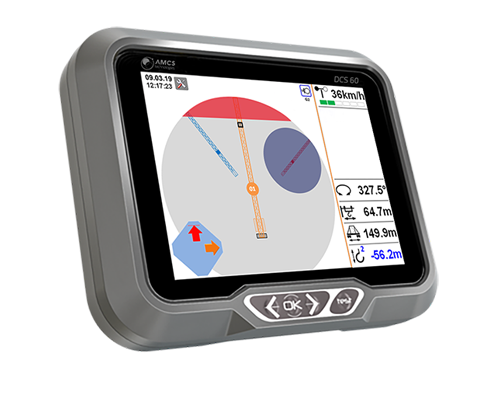 CONVENIENT, SAFETY AND DRIVING ASSISTANCE SOLUTION
The DCS 60 - Driving Control System - ensures safety on-site by managing interference between cranes and prohibited overflight zones. It provides an unequalled level of comfort of work by displaying all the useful settings to drive the crane. Its ease of use, installation and reliability make it the most
widely-used anti-collision system in the world. This universal device is suitable for all types and brands of cranes in order to manage easily large construction sites.

The system operates in real time and in 3-dimensions to calculate the distances between each crane component as well as movement speed.
It enables action to be taken on equipped 
mechanisms to ensure complete immobilization of the crane at a pre-set distance from a particular obstacle

3-dimensional prohibited overflight limits are quickly
defined directly on the screen, by associating geometric shapes with the areas concerned

It continuously records and saves data related to
events, movements and all the crane settings allowing direct viewing and/or downloading to a flash drive
Want to find out more about our products and our services?
Our sales and technical teams are at your disposal to satisfy your requests