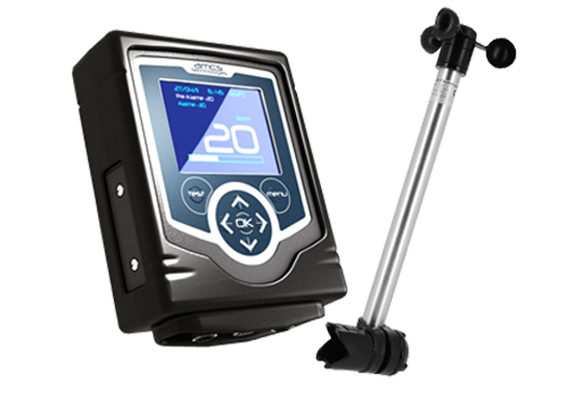 The anemometer fulfils the need to control and monitor job site wind speed in order to prevent any risks related to loads handling.
We offer a complete solution ranging from simple alarm notifications to data recording and downloading.
WHAT DOES ANEM 200 DO ?

It checks wind speeds up to 200 km/h (other units available: mph/ms).
It is equipped with an SD card to record the activity log, pre-alarm and alarm threshold oversteps in order to generate daily graphs.

Its screen in the cab displays :
Wind speed
Date and time
Pre-set pre-alarm and alarm thresholds
External temperature in C° or F°
ITS CHARACTERISTICS ?
Aluminium body able to withstand extreme outdoor conditions
Unbreakable, non-deformable windmill
Universal attachment. All the elements in the kit are fitted with magnetic studs to facilitate installation of the product on all types of mountings
Withstands temperatures ranging from -20°C to +70°C
ITS OPTIONS ?

In addition, a very bright giant display, the AFG 61, can be installed remotely via radio link. This improves quick decision-making and job site safety.

Its specificities :
Line of 10 alphanumeric characters: 14 cm
Amber LEDs (1400 mCd) with a visibility of over: 100 m
Choice of display units: km/h, mph or ms
Want to find out more about our products and our services?
Our sales and technical teams are at your disposal to satisfy your request